I'd only had a passing acquaintance with Reggae courtesy of a college friend who introduced me to Bob's "No woman no cry" back in the Seventies, and, truth be told, these uneducated ears (at least back then) couldn't deal with it. But, fast forward to the punk explosion and a bit of bandwagon-jumping by three newly-peroxided punk masqueraders. and Reggae, albeit a radical version -  was served up again, and consumed with relish. I still believe The Police laid the path that joined Marley's Reggae with the rest of the world, a "back door" if you will, through which we could explore it further.
Sting, in conjunction with the wonderful syncopated rhythms of Stewart Copeland, left acres of space across the sonic landscape I had never encountered before. Sparse, beautiful bass lines, weaving in and around those luscious hi-hats and Summer's expressive guitar tapestries.
He could write a mean lyric too. but when you crown this package with a totally unique vocal delivery, you have a world beater. All I can say is, if Sting doesn't deserve a place in this series, I don't know who the hell does.
A comeback World tour with his original partners in crime (or should that be against crime?) shows that he can still bring it to the table.
Recommended listening:
Spirits in the Material World – Try playing the bass line to this and singing it at the same time. You WILL go insane. It is pure genius.
Walking on the Moon – Less is more. Three bass notes, some hi-hat, and THAT voice, voila: Gold Dust!
A short while ago, in my series "The bass it don't lie" I posted a piece on Jeff Christie, my old bandmate. Little did I know that some days later, the interest in Christie – the band, would resurface…….
Some songs are simply hits, others worm their way into the collective consciousness, and a few, a very few, become synonymous with an event, a memory, and to the listener, the two are inseparable. The pop classic Yellow River – an unlikely slice of British country rock – falls very firmly into the last category. It was adopted by American servicemen as their rallying tune, a celebration of the end of their tour of duty in Vietnam. "Yellow river" was in fact the name of one of the bases in the U.S. from which soldiers were initially deployed to fight in Vietnam.
The ex-servicemen have never forgotten the song, nor the memories it brings back. Here's just a few anecdotes from America's finest:
And now, after several years hiatus, following a resurgence of interest, Christie are back – touring Europe anew in 2009. Who knows? perhaps the impetus will carry the band over the pond for some long overdue dates in America.
Yellow River — a Vietnam War classic – ex-servicemen share their views (courtesy of Ray Chan)
Bob Sullivan, Maryland, USA, wrote:
YELLOW River came out as I was being released from active duty in the US Navy. It brings to mind exactly how I felt as I was set free,some 36 years later (plus or minus) … it remains my favorite song of all time. Thanks for the memories, Mr Christie.
Dave Wilkinson, USA, wrote:
MY name is Dave Wilkinson. I'm a Vietnam Vet and my unit, Whiskey Battery 1st Battalion 12th Marine Regiment, are in the process of putting a website together.
We hope to use Yellow River for the background music on our site. GREAT SONG !!!!!!!!!!!!!
Ross Tuttle, Texas, USA, wrote:
I HAVE been a BIG fan of Jeff and the group since I first heard Yellow River in 1970. That song is still my all time favorite after all these years.
I carried Yellow River with me as I traveled in the Army and Navy for 30 years!
How can I get compilations of your songs? The music stores that I shop here in Dallas do not have anything.
This geriatric rocker is still hangin' in…
Boondogle, Florida, USA, wrote:
YELLOW River was unlike any other anti-war song. While others had strong messages, they were couched in equally grim and gritty melodies, like the anthemic War by Edwin Starr, or Eric Burdon's Skypilot.
But Yellow River was bright and bouncy and echoed the feeling of happiness we had when we knew our tour of duty was over. It remains a song that continues to bring back so many fond memories for me .. the joy of going home.
It should have been the first song featured on the Good Morning Vietnam soundtrack.
Ob Bop, Nebraska, USA, wrote:
ON Christie's first album was a song for the times. Vietnam was still going strong and a lot of vets coming back from overseas related to Yellow River.
Yellow River had a great impact on me when it hit the air in 1970.
I was drawing closer to the age when the draft would affect me personally. I saw returning vets grooving on the song .. a rockin' song with basic drums, guitar and vocals.
A basic lead guitar riff bounces in and out but never dominates. The main power is in the words … words that affect me and others to this day.
When that plane dropped me off in San Francisco after bringing me back from southeast Asia, the kin were there with the pick-up I had left in storage.
As I left to go visit Berkeley as a civilian, looking for a pretty hippy chick to welcome me back … I threw Yellow River into the cassette deck. Sigh …
If you want to perhaps envision what the guys of that time were thinking as they returned from overseas … give Yellow River a try and, as you listen to the lyrics … visualise returning to a fond time and place you have been away from.
Yellow River is one of my personal top 25 songs of all times, even after all these years.
Larry Matthews, California, USA, wrote:
I ALWAYS really liked Yellow River, especially the guitar work.
It's a good illustration of the rotation situation in Vietnam. Individual soldiers served for a year (or in the case of marines, 13 months) and then were rotated back to the states — unlike other wars where you were stuck in combat for the duration of the conflict.
I can guarantee the song certainly is NOT about the Yellow River in China. That is one place Americans were definetely not welcome at that time.
But it could have been either of the Yellow River areas in either Georgia or Iowa.
All I know is that it is a great song and, like Galveston, it shows that most soldiers were more than ready to do their time and go home.
So we prepare to take Christie on the road again in 2009, and give a fresh airing to this pop classic.  For now, check out this version we recorded live in Antwerp sports stadium , Belgium in 1990.
[youtube=http://www.youtube.com/watch?v=du2rYBS5XN4&hl=en&fs=1]
direct link=http://www.youtube.com/watch?v=du2rYBS5XN4
I'm unashamedly plugging my mate on this one!  It's not generally realised, as Jeff played guitar in the Christie line -up in which I featured on bass for over 15 years – but from his 60′s pop roots with The Outer Limits (who toured with Hendrix) through to the multi-million selling"Yellow River" hitmakers Christie, Jeff was a successful bass player/lead vocalist – not to mention a great songwriter. The U.K. pop band Tremeloes ignored Jeff's songwriting skills to their cost however, as they turned down the chance to release Yellow River and Jeff proceeded to take it to Number One all over the world himself.
The initial Christie line-up was in fact a trio with Jeff providing the pumping bass lines underneath his distinctive vocal.  A victim of their overwhelming singles success with "Yellow River" and "San Bernadino", the band struggled to recreate those sales on subsequent, more experimental releases. But a look back at the album "For all Mankind" illustrates just what a great band Christie was, particularly with regard to Jeff's writing. The title track of the album is still a great listen. Sony recently re-released the entire Christie canon on remastered CD's and the fantastic artist-friendly UK label Angel Air have just released a double set featuring all Jeff's early Outer Limits recordings, plus a previously unreleased solo album from the early 80′s entitled Floored Masters.
Jeff is a great example of a bassist as an all-rounder, singer – songwriter – bandleader – hitmaker.
Check out Ray Chan's excellent Christie site HERE.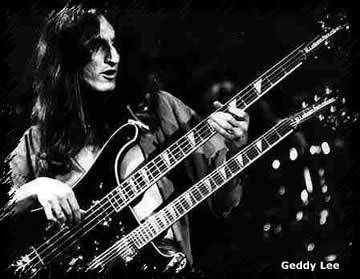 Way back in 1968,  a young Gary Lee Weinrib was asked to join fledgling Canadian band Rush. To the rest of humankind, this son of Jewish/Polish refugees is known as Geddy Lee, and he can spank a plank and holler with the best of them. Known for his distinctive vocal style and percussive basslines, Lee propelled the role of bassist/singer to a new level. My personal equipment configuration for him would be the Rickenbacker 4001 bass with Ampeg amplification, it really defined his signature sound, though he's alternated his gear frequently throughout Rush's 18 album career. The bulk of his music is heard with the Canadian Trio, but he's also taken a number of production jobs, and released a notable solo album, My Favourite Headache during drummer Neil Peart's hiatus due to personal tragedy.
Always searching to expand the possibilities of a three-piece, Lee wasn't content to just play bass and sing, and he pioneered the use of Taurus bass pedals, freeing him up to play the keyboard lines that began to creep into Rush's studio works.
His influence on the next generation of musicians is vast, from Metallica's Cliff Burton, to Maiden's Steve Harris.  He currently plays the Geddy Lee Signature Jazz bass, a replica of his favourite bass that he bought in a pawn shop. His strident vocals and metallic bass are instantly recognisable, and timeless, which perhaps explains his band's longevity. Currently touring Snakes and Arrows, they show no sign of slowing down.
On a less musical note, he's also known for a quirky sense of humour, which leads him to replace conventional backline with domestic tumble driers, or, more recently, multiple chicken rotiserries….his only explanation being that the band have to eat and do laundry.
Recommended: By-Tor and the Snow Dog; Closer to the Heart; Permanent Waves; Moving Pictures
I can almost hear the chorus of "who???"  I choose Peter Farrelly for this series for one moment in my teenage concert going years.  Peter was the bassist/vocalist with Irish prog-rockers Fruupp. Waist-length hair, a Gibson Les Paul recording bass, and knee-high boots, he cut a dashing figure, alternating the music with spoken passages, for which he would retire to a wing-backed armchair, by the light of an old standard lamp, reading their peculiar myths and legends. But the moment that had my jaw hitting the floor as an impressionable young lad was when they launched into their song "On a clear day". Intricate bass lines underpinning his vocal, seemingly impossible to perform at the same time! It was the first time I'd seen live a bassist exhibit such skill, and it had a profound effect on me. He also designed most of the bands artwork for their album covers – and played the flute!
Fruupp released four albums in the early seventies, the final one, Modern Masquerades, being produced by King Crimson's Ian McDonald (later to be part of Foreigner) who also played sax on the album. They developed something of a following in the UK and supported both Genesis and Queen on tour in 1974.
They finally split in 1976.
There were rumours of a reunion in 2006, and who knows , it may still happen. But do yourselves a favour, and check out the music of this undiscovered gem of a band!
Recommended listening: Tracks: One a fine Day, Janet Planet, Gormenghast
Albums: The Prince of Heaven's Eyes, Modern Masquerades
A true superstar, who really lived the rock'n'roll lifestyle and paid for it with his life, Phil Lynott embodies the ethos of the bassist/singer. inspired by Hendrix's example, he proved a black man could rock, and the massive cultural hurdle (in those days) of being Irish and Black fed his music and lyrics, embodying them with a wild romanticism and a "me an the boys" gang mentality, reminsicent of Bernsteins West Side Story.
His mother, Philomena, figured large in his life, and he wrote a song for her. It's said that his last words to her were "oh ma, what have I done to ya?" – and it's quite clear that there were two Philip Lynotts – the caring father and son, and the wild man, the romeo, forever ligging at someone's party, glass in hand.
Bon Jovi are vocal in their appreciation, saying Phil and Lizzy were a massive influence on them. Songs about Cowboys from the Irish – Inspiring the Americans to do the same – it's like selling sand to the arabs!! No mean feat. John Norum and Swedish band Europe were also massive lizzyphiles – Norum covering "Opium trail" on one of his solo outings. Huey Lewis also cut his teeth playing blues harp with them.
He led Thin Lizzy to produce some of the finest rock in the last forty years, employing a succession of guitarists that reads like a who's who – Eric Bell, Gary Moore, Brian Robertson, Scott Gorham, Snowy White and John Sykes. He even employed Ultravox's Midge Ure at one point!
But it was his driving bass, his power stance and delivery, and his completely unique voice, that really sold Lizzy. listen to the bass line on "the boys are back in town", or the earlier "I'm a gonna creep up on ya". He WAS rock bass, straight-ahead, no-nonsense. There are so many great Lizzy bass lines, delivered on the now iconic black Fender precision with the mirrored scratchplate – an idea he nicked from Slade's Noddy holder when he saw how the spotlights reflected off the mirrors on Noddy's trademark top hat!
I had the pleasure and privilege to briefly meet him in Derby, when he'd taken the new-look twin-guitar lizzy out on the road to promote "Nightlife". he was quite, unassuming, a gentleman. But onstage, the consummate rocker. Recently, that very show I attended at Derby college has been released on CD, where they previewed the as yet untitled Cowboy Song, calling it "Derby Blues!".
I've always felt a connection with Phil. He's one of my strongest and earliest influences, and I had the good fortune to portray him on the UK TV Show "Stars in their Eyes".
I met Eric Bell some time afterwards, and he told me he'd enjoyed it alot, and Phil would be looking down saying, in his inimitable Irish accent "jaysus, I tort oi was dead!" it was one of the proudest moments of my life.
Happy Birthday Phil.
Recommended listening…"I'm gonna creep up on ya" "The Hero and the Madman" "The boys are back in town" "Don't believe a word" "The Rocker"…..the list goes on!
[youtube=http://www.youtube.com/watch?v=umdj-GG0y6g&hl=en&fs=1]
I have an article contained within the pages of a tatty 1970's periodical called Music Week that pigeon-holes a certain female bassist/vocalist as "bubblegum". With the benefit of hindsight, I would postulate that "bubblegum" is not an epithet one would use about the girl in question, Suzi Quatro, and most certainly not one you would use to her face, unless you were looking for a quick nose-job.
Suzi Quatro's assault on the British charts in the early 70′s, leather cat-suited, a tiny thing grasping and spanking a frankly huge-looking Precision is remarkable for a number of reasons. The fact that she refused to adopt the smaller Mustang bass spoke volumes for her desire to be taken seriously in what was then predominantly a male domain.
There was your Sandie Shaws, your Olivia Newton-Johns, all vaseline-lensed and wistful, and then there was Suzi, implausibly inviting you to "Can the Can" and insisting that the 48 Crash was a "silk sash bash" delivered in a tough, caterwauling hell-cat scream that took no prisoners. It was magnificent.
A prodigy of Mickie Most, whose pop touch destroyed Terry Reid, Suzi made it her own with a string of hit singles. Although LA bands such as Fanny and Birtha were making some waves in America, their brand of girly rock never quite made it to UK shores (despite Suzi's sister Patti joining Fanny in its later incarnations).
She clearly paved the way for countless female bands, and guess what? She could play!! This was much in evidence as she took to session work when her career suffered a dip in the mid to late seventies. Giving credence to the saying "a prophet is never recognised in his own town", Quatro never really achieved musical recognition in her native America though her character from Happy Days – Leather Tuscadero, is remembered fondly.
I've had the pleasure of touring with Suzi in the 90′s when I was with Christie – she borrowed my Phil Lynott Precision one time AND we appeared on the same CD once, a German Christmas album!
Her live shows were always gutsy, and when she took her solo on bass, it just screamed "this is what I do, it's not a gimmick". A feisty character, one of the guys backstage, she is now married to our old German promoter, Rainer Haas, and continues to tour.
Given the state of play nowadays with simpering pop from the likes of Sugababes and Atomic Kitten, God knows the world needs another Suzi on the scene!
Recommended listening: Can the Can, 48 Crash, Devilgate Drive,Take me in your Arms (Suzi's Doobies cover, from O, Suzi Q)
Keep following the series folks – A few off-the-wall choices coming up!
It is impossible to do a series on bassist/vocalists without including this man: Burke Shelley. The man behind the Welsh Power Trio Budgie, he was a huge personal influence on me becoming a professional bassist/vocalist myself.
I would stand in the cavernous King's Hall, Derby as a 15 year old, enraptured by the light and shade of their music, Burke's bass playing on his trusty old sunburst precision and his stratospheric vocals. (It would be several years before I saw Geddy Lee and proclaimed him to be a Budgie clone!)
With Budgie, you get a guitar, a bass, and drums, no frills, just straight ahead musicianship. Within the space that a three-piece naturally gifts you, Burke's bass was turned way up loud – a complete third of the whole, not a shy retiring underpinning to the song. Seeing him play this way, and sing his heart out, helped me understand the bass, what it was meant to do.
Tracks like Breaking all the House Rules, with its tremendous pumping bassline and great vocal were all I needed to become well and truly hooked. Over the years they've been a tremendous influence on countless bands, with Soundgarden, Iron Maiden and Metallica covering their songs.
Three years ago, I attended a Budgie gig in the UK, and spent some time with the band backstage after the show, finally able to tell Burke how he'd influenced me (should that be inFLEWenced?) after 32 years.
I looked at his bass, leaning against the wall.
"Is that the same one?" I asked.
"Yep" he said "wanna play?"
I was a kid again, the battered precison in my hands. It was like the closing of a circle. Burke's still going strong – currently touring Australia with Dio's Craig Goldy as guest guitarist.
Long may he reign!
Recommended listening: Who Do You Want for Your Lover? – wonderful funky bass, great vocal
Breaking All the House Rules - rip-roaring rawk 'n' roll!
Breadfan – Now a metal classic
Parents – An astonishing vocal from Burke, sometimes sounding like fellow Cardiff-born Shirley Bassey, I kid you not!
Who would have thought that the bass player on Finders Keepers Sadie, The Cleaning Lady, an unassuming single released in 1968, would go on to assume legendary status amongst the rock faithful? Another band, and two albums later, and Glenn Hughes was hitting his stride. Medusa, from Trapeze, hinted at where this rock/funk three piece could take it, You are the Music…We're Just the Band released a year or so later fulfilled that promise. On the latter, Hughes is simply breathtaking. Handling ALL the vocals, he is unsurpassed. On Feelin' So Much Better Now, his three-part black chick chorus is pure En Vogue. His gutsy lead vocal soars to incredible heights on Loser, and emotes with raw soul on the classic Coast to Coast and Will Our Love End. The bass playing is blistering rock funk, a perfect foil for the late Mel Galley's rock solid guitar and Dave Holland's stylish syncopations. This band had it all. Small wonder then, that Hughes was poached by Deep Purple, and Trapeze soldiered on for a while until Galley was poached by Whitesnake, and Holland by Judas Priest.
Hughes fell foul of the drink and drugs lavished on him as a newly-crowned Purple rock prince. He still managed to turn in classic performances on Purple albums, and his first solo album Play Me Out, is astonishing. But, after a last gasp classic, Hughes/Thrall in 1982, containing one of the greatest funk rock riffs of all time on Muscle and Blood, Hughes plumbed the depths in his personal life. Somehow, he appeared on various albums for the likes of Gary Moore and Tony Iommi, but it wouldn't be until the 90′s and his brush with death, that Hughes would finally get his life, and his career, back on track. But oh boy, has he made up for lost time! A string of fantastic solo albums followed, plus great rock albums with Voodoo Hill and once again with Tony Iommi.  His catalogue is of such a high standard, and so vast, its almost impossible to single anything out. Regular side men include Swedish guitarist JJ Marsh, and, as a perfect foil for the funk, the Chili's Chad Smith on drums. He is known variously as The Voice of Rock, the White Man's Stevie Wonder, but above all he's the funkiest mutha to take the stage.There is, quite simply no-one who can play bass and sing like this man. He stands alone.
On a personal note, he is pretty much the reason I've been a bassist/vocalist professionally for 30 years, and I've been lucky enough to meet him and tell him so. Listening to Deep Purple's Burn album, and Glenn's vocal and bass lines…it was like a light bulb going on in my head – so THAT'S what it's all about!
To paraphrase his old band Trapeze's album title YOU are the music, Glenn – we're just the fans.
RI.P. Mel Galley, guitarist with Trapeze, Whitesnake and Phenomena, who succumbed to throat cancer on July 1st. this year.
Recommended: Trapeze: You are the Music album, Deep Purple: Come Taste the Band, Glenn Hughes: Play Me Out, Feel, Soul Mover, Music for the Divine, F.U.N.K. Hughes/Thrall:Hughes/Thrall
In the early 1960′s , as popular music underwent its huge catharsis, it was not just the kids in the front rooms with their cheap guitars that would make it a force to be reckoned with. A lot of Jazz musos were crossing over, experimenting with the singles and album market that was growing almost daily.  One such jazz player was a certain Jack Bruce. A jazz bassist in his teens, Bruce was playing for Alexis Korner's Blues Incorporated by 1962, though on double bass. It was here he met Ginger Baker, and they went on to play with The Graham Bond Organisation, where Bruce finally succumbed to the lure of the Electric Bass. However the legendary hostility between him and Ginger soon brought proceedings to a close, and he joined John Mayall's Bluesbreakers, where he first played with Eric Clapton. After a stint with Manfred Mann, playing on several hits, he made his career-defining move, forming the ultimate power trio with Baker and Clapton; Cream. It was in the two short years between 66 and 68 that Bruce cemented his reputation as one of the greatest and most influential bassist/vocalists of all-time, his Gibson EB-3 bass becoming almost iconic. His fluid bass lines, almost solos in their own right, and rich, timbred vocals, singing the fantastical lyrics of Pete Brown, ensure that he's still worshiped to this day.
His fondness for the Power trio never waned, and he experimented with it in several line-ups, including West, Bruce and Laing, (featuring ex-Mountain men Corky Laing and Leslie West) and BBM (Bruce, Baker and Moore, featuring the Irish guitar legend).
Following an almost fatal liver transplant, he returned triumphantly to the stage with Cream for the Albert Hall reunion concerts in 2005.
Recommended: Sunshine of Your Love – an iconic riff, a great vocal. I Feel Free – Classic Bruce!
West, Bruce and Laing: Why Dontcha? – A forgotten classic
And a note from Newm: It is certainly worth mentioning that our good friends at Esoteric Recordings in England have just released an amazing career-spanning Jack Bruce box set called Can You Follow, and having heard it, it's absolutely brilliant.  It's got stuff that he's done with Alexis Korner, Graham Bond, Cream, West Bruce & Laing, solo, Eric Clapton & The Powerhouse, Zappa, Manfred Mann, and more.