Dip into the upcoming soundtrack from Drag City Films' Source Family documentary. Guess what? It's cleverly titled The Source Family!
"In case you don't know the underground legend already or haven't seen the film yet – for the last couple decades, the cult around The Source Family cult has enjoyed the music of Ya Ho Wa 13, whose nine albums with Father were a major part of their story. Recorded during an eleven-month span during 1973 and '74, these albums continue to fascinate listeners to this day. The Original Soundtrack album pulls plums and cherries from these freakish fruit trees of The Source Family, whose album releases from the 1970s are an indication of how weird the world can be even when it isn't trying.
Some of the most awesome jams from their privately-pressed classics are represented here, along with a brace of previously unreleased song chosen to include the widest variety of Source Family members, revealing the talents of many not previously showcased. And so, in addition to Ya Ho Wa 13 members Djin, Sunflower and Octavius, we also hear the contributions of a whole host of peripheral members – as well as the omnipotent Yahowa himself, Father Yod. Their music ranges from soulful to spiritual to shamanistic, with Father fronting the band on journeys through inner and outer psychosis and bliss."
Anyway, here's a stream to the Source…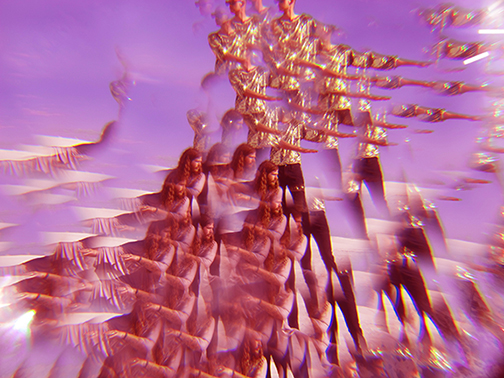 PRESS RELEASE:
JJUUJJUU lines up tour supporting FRST
Shows include Austin Psych Fest, Moon Block Party, Desert Daze
Band unveils trippy "Ancient's Future" video

"Hooked on a feeling and stuck in a beat, "G 4 A G" burns slow and steady with a bit of a freak-power edge that spells mild darkness with drop-out, play-through, basement rumblings."
–
IMPOSE
 "Comprised of 2 members, Andrew Clinco of Incan Abraham and Phil Pirrone, founder of Moon Block Party, the spacey vibrations JJUUJJUU have put down include stunning layers of processed guitars, celestial pulses and massive beats from Andrew Clinco…their musical vision and penchant for touching the farthest reaches of space make them a compelling act to watch grow." — Kim's Video and Music
JJUUJJUU is an astral union, an arcane ritual, and above all, a conversation. Harnessing an unspoken energy, the pairing (Andrew Clinco of Incan Abraham + Phil Pirrone, founder of Moon Block Party) have exponentially blossomed from a sonic experiment to a forceful, telepathic dialogue of distinct-but-aligned vibrations.
The duo is embarking on a tour in support of FRST, out now on Beyond Beyond is Beyond Records. Catch JJUUJJU on the dates below, including performances at Desert Daze, Austin Psych Fest and Psych De Mayo.
TOUR DATES
4/20 – Moon Block Party's Desert Daze @ Sunset Ranch Oasis – Mecca, CA (w/ Tinariwen, Warpaint + more)
4/22 – District Tavern – Tucson, AZ *
4/23 – Lowbrow Palace – El Paso, TX *
4/24 – The Korova – San Antonio, TX *
4/27 – Austin Psych Fest (River Stage) – Austin, TX (w/ Deerhunter, Black Mountain, Boris, + more)
4/30 – Rhythm Room – Phoenix, AZ (w/ Blackfeet Braves, Of the Painted Choir, Dead Canyon)
5/01 – The Void – San Diego, CA (w/ Blackfeet Braves, Wild Wild Wets, Barbarian)
5/05 – Psych De Mayo – Santa Ana, CA (w/ Holy Wave, Orange Revival, Vinyl Williams + more)
* w/ Cosmonauts, Blackfeet Braves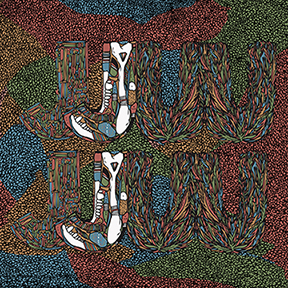 JJUUJJUU - FRST
Label: Beyond Beyond is Beyond
Format: White Vinyl LP, Digital
ORDER
1. Ancient's Future
2. A Forming
3. G 4 A G (mp3)
For more information, visit:
Facebook
Beyond Beyond is Beyond
Press Release:
"Beyond Beyond is Beyond Records is pleased to announce the release of New Hampshire Freaks, a collaborative split with New England natives MMOSS and Quilt, out on a variety of formats come April 23, 2013. Each group contributes one new song, with the b-side featuring an epic 14+ minute psych-out jam. Listen to Quilt's "Open Eyes," premiered by Stereogum.
The first 300 vinyl orders will be pressed on dual-colored olive green & bone 10″ wax, available on a first-come, first-served basis, as well as an extremely limited run of 100 colored cassette tapes. Insert artwork by Brian Scott Campbell. New Hampshire Freaks is also part of BBiB's Jamscription, a record club where members receive all of the label's 2013 releases on vinyl & digital for one flat rate. Pre-order New Hampshire Freaks and learn more about the Jamscription service directly from Beyond Beyond is Beyond."
Click on thru to listen…
Wow, this new Black Angels tune kicks serious ass. Their new album Indigo Meadow is out April 2nd and "Evil Things" is downloadable if you pre-order from iTunes. But then again, why would you do that when you can pre-order vinyl…and other configurations that come with hot sauce and shit. For now, crank this one up…
The Black Angels on tour:
"Although the album contains just 4 songs, each one takes you on such a journey that it plays out like a mini-album in itself. "Astronauttija" launches like an early Floyd song with shiny guitars and catchy hooks before transitioning into an interstellar hoedown of sorts. Once that lets out, we're treated to a fury of overdriven, phased-out psychedelic guitars and space rumbles that blows minds. "Tomte Mars" almost feels like a prayer with its raga-like openings that soon becomes a swirling mass of guitars, harmonicas and spacey atmospherics. After the quarter-hour long beautiful and ever-searching dins of "Pines II Makumatka", you'll certainly feel scrambled however rejuvenated thanks to long strides of languid guitars, flutes, mouth-harps amidst hushed overtures. There's so much wizardry and scruffy prismatic glory on Pines that you can simply just get lost in it and isn't that what makes the best psychedelic music good? Indeed." – Kim's Video and Music
Behold the mighty Foxygen. These kids rule. The pic above is from when they came and played live on my East Village Radio show in early 2012.
Jagjaguwar signed them up in the meantime and officially issued their amazing self-made LP, Take the Kids Off Broadway, and the world sang their praises in unison!  What we have below is a video for the song, "San Francisco", from Foxygen's new album, We Are The 21st Century Ambassadors of Peace and Magic, out January 22nd on Jag. So let's just stop talking and enjoy this very pleasurable song and video…
<<< Happy New Year! Wishing You the Absolute Best for 2013…and Beyond >>>
On this first day of the New Year, we invite you to kick off your year on the right note…with the new BBiB Records 2013 Subscription Service!
Become a member of this true 'record club' and get every BBiB Records release delivered to your door…plus special bonus booty!
Here's the deal. There will be at least 5 new releases in 2013, all of which you're gonna flip for. And of course all of which will be released on glorious vinyl. You're gonna want these beauties brought straight to your doorstep. Trust us.
Here's what's a-coming:
Kiki Pau's Pines (one of the most beautiful albums ever)
Quilt and MMOSS split 10″ – one brand new tune from each band plus some collabo-jamming! (pre-order coming in a few days)
LA Kraut-jammers JJUUJJUU's debut EP (pre-order in a few days)
a new Velcro Lewis Group LP (woo-hoo!)
…and a mystery LP from a mystical band of nomadic, sun-worshipping Swedes
Here is what you can count on for a mere $75:
5 BBiB Records-curated brand-new vinyl releases (no shipping fees!)
At least 3 bonus items (could include bonus tracks/demos, vinyl tote bags, t-shirts, mixed tapes, stickers, a baby's arm holding an apple, artists' underpants, etc.)
Our undying gratitude and respect for your musical taste
The joy and convenience of having the best music on the planet (and beyond) delivered to your doorstep!
And if you subscribe in the month of Jamuary, you will get a handmade, one-of-a-kind custom mixtape made personally for you by BBiB's own Marc Norman! (Digital mixtape for non-US addresses and by request).
So subscribe below and come with us on our epic musical journey.
*And if you already have ordered Kiki Pau's Pines but you still want to subscribe, then just tell us in a note in Paypal when you're checking out and we will replace the Kiki Pau vinyl with Prince Rupert's Drops' Run Slow. If you already have the PRD album and you've also pre-ordered the Kiki Pau album, then you're the best and we'll replace it with the first release of 2014 or maybe even a BBiB Records t-shirt. Either way, what we're trying to say is that you won't get any duplicates. And you're sexy.
**AND, huge thanks to everyone who has supported us so far with our inaugural release from Prince Rupert's Drops.

*photo by Johanna Taskinen
SPIN Premieres Finnish Psych Band, Kiki Pau's 'Tomte Mars' from the Next Beyond Beyond is Beyond Records LP Release
And we're proud to share Kiki Pau's magically-sublime 'Pines' album with the rest of the world and beyond!
Pines will come out on lovely translucent green gatefold vinyl on February 5th. Oh yeah, and of course digitally. And perhaps we'll even make some cassettes for you tape-heads. Until then though, you can pre-order here. And of course check out 'Tomte Mars' and the accompanying great write-up on SPIN…
Prince Rupert's Drops debut Run Slow is released on November 13th on BBiB Records, and we shall party in honor of that fact on Saturday, November 17th at Wild Kingdom.
Live sets from Prince Rupert's Drops, Endless Boogie, and 1-800-BAND.
Don't fuck up and miss it.
Saturday, November 17th

Wild Kingdom, Brooklyn, 97 S. 6th Street, Brooklyn

9:oo PM
The mighty Eternal Tapestry have another fantastic album coming out November 13th, care of Thrill Jockey, called A World Out Of Time. I've been listening to it for the past week or so and loving it. It might be my favorite from them yet. Full cosmic Atman!
Take a taste…

And methinks you should pre-order the vinyl now and get a bonus CDr called Prometheus Rising thrown in for good measure!
Some details about the bonus CDr :
"Prometheus Rising is a CD-R that plays like a full album.  Clocking in at 42 minutes, the six tracks span the full extent of Eternal Tapestry's existence.  The disc opens with "The Prowler" – a set standard that the band has been playing live for years, previously unavailable.  Title track "Prometheus Rising" is purposeful and driven as it leads into "Bridge Over an Abyss" – a psychedelic, ominous cosmic chasm of loose, foreboding darkness.  The disc closes with live track "Blots and Blurs," an epic burner of a track, crescendoing over the course of 13 minutes in impressive fashion."
Dig this vid for "Apocalypse Troll" from A World Out Of Time and see if you recognize a riff:
"A World Out of Time, Portland quintet Eternal Tapestry's second full-length of 2012, is a new kind of album for the band. As opposed to previous efforts, which were culled from many hours of recordings, it was recorded as a whole.  The resulting record, while not restricted to the four minute song, has the focus and the flow that only music conceived as a narrative can. Taking inspiration from groups like Faust and Algarnas Tradgard, the album unfolds as a collage, the most salient elements of their sound sewn into a seamless patchwork. In the process, the group has constructed an incredibly dynamic album, juxtaposing expansive improvised sections with their most deliberate material yet."