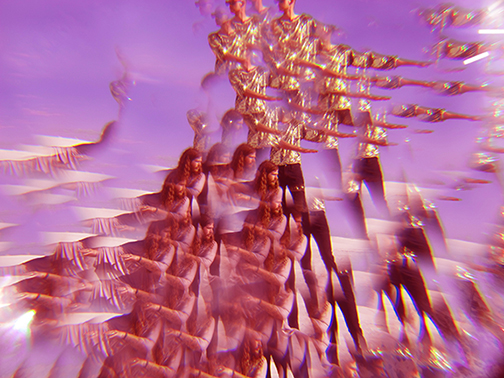 PRESS RELEASE:
JJUUJJUU lines up tour supporting FRST
Shows include Austin Psych Fest, Moon Block Party, Desert Daze
Band unveils trippy "Ancient's Future" video

"Hooked on a feeling and stuck in a beat, "G 4 A G" burns slow and steady with a bit of a freak-power edge that spells mild darkness with drop-out, play-through, basement rumblings."
–
IMPOSE
 "Comprised of 2 members, Andrew Clinco of Incan Abraham and Phil Pirrone, founder of Moon Block Party, the spacey vibrations JJUUJJUU have put down include stunning layers of processed guitars, celestial pulses and massive beats from Andrew Clinco…their musical vision and penchant for touching the farthest reaches of space make them a compelling act to watch grow." — Kim's Video and Music
JJUUJJUU is an astral union, an arcane ritual, and above all, a conversation. Harnessing an unspoken energy, the pairing (Andrew Clinco of Incan Abraham + Phil Pirrone, founder of Moon Block Party) have exponentially blossomed from a sonic experiment to a forceful, telepathic dialogue of distinct-but-aligned vibrations.
The duo is embarking on a tour in support of FRST, out now on Beyond Beyond is Beyond Records. Catch JJUUJJU on the dates below, including performances at Desert Daze, Austin Psych Fest and Psych De Mayo.
TOUR DATES
4/20 – Moon Block Party's Desert Daze @ Sunset Ranch Oasis – Mecca, CA (w/ Tinariwen, Warpaint + more)
4/22 – District Tavern – Tucson, AZ *
4/23 – Lowbrow Palace – El Paso, TX *
4/24 – The Korova – San Antonio, TX *
4/27 – Austin Psych Fest (River Stage) – Austin, TX (w/ Deerhunter, Black Mountain, Boris, + more)
4/30 – Rhythm Room – Phoenix, AZ (w/ Blackfeet Braves, Of the Painted Choir, Dead Canyon)
5/01 – The Void – San Diego, CA (w/ Blackfeet Braves, Wild Wild Wets, Barbarian)
5/05 – Psych De Mayo – Santa Ana, CA (w/ Holy Wave, Orange Revival, Vinyl Williams + more)
* w/ Cosmonauts, Blackfeet Braves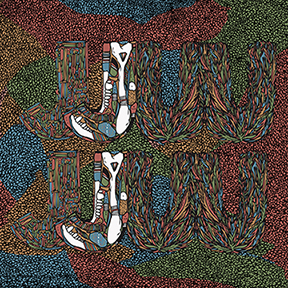 JJUUJJUU - FRST
Label: Beyond Beyond is Beyond
Format: White Vinyl LP, Digital
ORDER
1. Ancient's Future
2. A Forming
3. G 4 A G (mp3)
For more information, visit:
Facebook
Beyond Beyond is Beyond
Press Release:
"Beyond Beyond is Beyond Records is pleased to announce the release of New Hampshire Freaks, a collaborative split with New England natives MMOSS and Quilt, out on a variety of formats come April 23, 2013. Each group contributes one new song, with the b-side featuring an epic 14+ minute psych-out jam. Listen to Quilt's "Open Eyes," premiered by Stereogum.
The first 300 vinyl orders will be pressed on dual-colored olive green & bone 10″ wax, available on a first-come, first-served basis, as well as an extremely limited run of 100 colored cassette tapes. Insert artwork by Brian Scott Campbell. New Hampshire Freaks is also part of BBiB's Jamscription, a record club where members receive all of the label's 2013 releases on vinyl & digital for one flat rate. Pre-order New Hampshire Freaks and learn more about the Jamscription service directly from Beyond Beyond is Beyond."
Click on thru to listen…
Wow, this new Black Angels tune kicks serious ass. Their new album Indigo Meadow is out April 2nd and "Evil Things" is downloadable if you pre-order from iTunes. But then again, why would you do that when you can pre-order vinyl…and other configurations that come with hot sauce and shit. For now, crank this one up…
The Black Angels on tour:
Psyched to welcome Sky Picnic to the EVR show tomorrow. Their new Paint Me A Dream album was one of my absolute favorites from 2012. Tune on in 2-4pm ET for a chat and acoustic session!
Behold the mighty Foxygen. These kids rule. The pic above is from when they came and played live on my East Village Radio show in early 2012.
Jagjaguwar signed them up in the meantime and officially issued their amazing self-made LP, Take the Kids Off Broadway, and the world sang their praises in unison!  What we have below is a video for the song, "San Francisco", from Foxygen's new album, We Are The 21st Century Ambassadors of Peace and Magic, out January 22nd on Jag. So let's just stop talking and enjoy this very pleasurable song and video…
<<< Happy New Year! Wishing You the Absolute Best for 2013…and Beyond >>>
On this first day of the New Year, we invite you to kick off your year on the right note…with the new BBiB Records 2013 Subscription Service!
Become a member of this true 'record club' and get every BBiB Records release delivered to your door…plus special bonus booty!
Here's the deal. There will be at least 5 new releases in 2013, all of which you're gonna flip for. And of course all of which will be released on glorious vinyl. You're gonna want these beauties brought straight to your doorstep. Trust us.
Here's what's a-coming:
Kiki Pau's Pines (one of the most beautiful albums ever)
Quilt and MMOSS split 10″ – one brand new tune from each band plus some collabo-jamming! (pre-order coming in a few days)
LA Kraut-jammers JJUUJJUU's debut EP (pre-order in a few days)
a new Velcro Lewis Group LP (woo-hoo!)
…and a mystery LP from a mystical band of nomadic, sun-worshipping Swedes
Here is what you can count on for a mere $75:
5 BBiB Records-curated brand-new vinyl releases (no shipping fees!)
At least 3 bonus items (could include bonus tracks/demos, vinyl tote bags, t-shirts, mixed tapes, stickers, a baby's arm holding an apple, artists' underpants, etc.)
Our undying gratitude and respect for your musical taste
The joy and convenience of having the best music on the planet (and beyond) delivered to your doorstep!
And if you subscribe in the month of Jamuary, you will get a handmade, one-of-a-kind custom mixtape made personally for you by BBiB's own Marc Norman! (Digital mixtape for non-US addresses and by request).
So subscribe below and come with us on our epic musical journey.
*And if you already have ordered Kiki Pau's Pines but you still want to subscribe, then just tell us in a note in Paypal when you're checking out and we will replace the Kiki Pau vinyl with Prince Rupert's Drops' Run Slow. If you already have the PRD album and you've also pre-ordered the Kiki Pau album, then you're the best and we'll replace it with the first release of 2014 or maybe even a BBiB Records t-shirt. Either way, what we're trying to say is that you won't get any duplicates. And you're sexy.
**AND, huge thanks to everyone who has supported us so far with our inaugural release from Prince Rupert's Drops.
Dear dudes, as you well know, the effects of Hurricane Sandy will continue to be felt by many throughout the Winter. And one of the organizations that is doing the absolute best and most work with the resources they are given is Occupy Sandy.
So we at Beyond Beyond is Beyond Records are going to donate 50% of the proceeds from this BBiB Records vinyl tote straight to Occupy Sandy, who will be getting help straight to those suffering most. Not to mention the tote is gonna look damn good hangin' from your shoulder. I can already picture you now. Wow, you're hot!
Anyway, enough about you, grab one for holiday gifts for everyone in the family and do lots of good at the same time!
ORDER HERE
Come join us on Beyond Beyond is Beyond on East Village Radio today from 2-4pm ET.
We'll be playing prime cuts from the new Meat and Bone album and generally fucking around.
I'm fucking psyched about the new Neil Young & Crazy Horse joint, Psychedelic Pill, coming out on October 30th. Shit, the first track is 27.5 minutes long!
Following up this year's single Americana release, Psychedelic Pill looks like it will dig in much further, with 8 songs spread over two CDs. And it will also be available on triple-vinyl. The sour news though is that the vinyl will cost you about $88.
Now I initially thought that this was due to Warner Brothers price-gauging knowing that they could count on a certain number of sales from both Neil-fetishists and vinyl-fetishists. But Jeff Conklin from East Village Radio tells me that it's because Neil insists that the records be cut and mastered at a specific plant in Japan and the stock for the sleeve is from somewhere in Europe. All boosting the costs. I still call some major label shenanigans in there!
The above video is Neil & Crazy Horse playing the song "Walk Like a Giant" off the new double album at Red Rocks in August. Sounds fucking amazing. I might have to put down the dough to go see them at the new Barclays Center in Brooklyn on December 3rd!
The track-listing for Psychedelic Pill is as follows:
Disc One:
1 Driftin' Back (27:36)
2 Psychedelic Pill (3:26)
3 Ramada Inn (16:49)
4 Born In Ontario (3:49)
Disc Two:
1 Twisted Road (3:28)
2 She's Always Dancing (8:33)
3 For The Love Of Man (4:13)
4 Walk Like A Giant (16:27)
Bonus Track:
5 Psychedelic Pill (Alternate Mix)
Neil Young & Crazy Horse's upcoming tour dates are as follows: