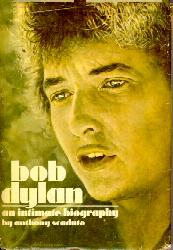 I started really listening to Bob Dylan in around 1988 when I was in high school, at a time when it seemed that all people wanted to say about him was how well everyone else sang his songs. And at a time when high schoolers just weren't listening to him (are they ever though?). I used to go to record shops to buy Dylan albums and found that I'd most often have to check the 'folk' section to find them. Still of teenage mind, I was confused by this, especially since it was only Dylan's first three albums that were really 'folky'.
I also wondered why people didn't like his voice. To me, it was other-worldly and transportative. I'd never heard anyone sell a song like Dylan in a more unique way. It spoke to me a lot more than C&C Music Factory, who were having their moment in the sun at the time. I know because I used to cringe at every party I was at in high school when it came on.
In 1989, I read Anthony Scaduto's Bob Dylan: An Intimate Biography, which was originally published in 1971. I became obsessed, but not so much with the man, but the music.
Favor for Dylan started warming up as 1989′s Oh Mercy album was released to critical acclaim and the Biograph box set soon followed. Though certainly not the treasure trove for Dylan diehards, Biograph was an amazing step for me away from Dylan 'beginner' to Dylan 'intermediate.' I have Dan Brookbank and blank cassettes to thank for that. Biograph opened my eyes up to the lesser-know (or lesser-respected) eras of Dylan's career and turned me onto little gems like 'Can You Please Crawl Out Your Window' and 'Abandoned Love.' And I loved Biograph's odd contrasts of songs like 'Every Grain of Sand' and 'Quinn the Eskimo' sitting right next to each other on the cassettes. Or 'Positively 4th Street' followed by a live 'Isis.' Beautiful.
I started college and Dylan released the Oh Mercy follow-up album, Under the Red Sky to very lukewarm reviews and Dylan seemed to be forgotten about all over again. Again, Dylan wasn't living up to what people wanted him to be. But I listened to the shit out of that album in '91 and '92, unconcerned with what social merit and poetic import it was 'supposed' to have. Again, I was the only one of my peers listening to Bob Dylan…well, except for Al Berger at Ohio State.
Ask somebody about Bob Dylan in the 90′s and a good percentage would wonder 'oh, is he still alive?' During those 90′s I discovered it all. And I saw Dylan in small theaters and state fairs. I saw shows where he was chatty and having a blast on stage and I saw shows where he came out, played the songs, and left the stage. But I was always in awe.
The first Bootleg Series release came out in '91, which was utterly amazing and just furthered my obsession with the many sides of Dylan's music. The two solo acoustic albums (Good As I Been to You, World Gone Wrong) also came out in the 90′s and I was the only one I knew that had them or even heard of them. I do remember them both being well-reviewed in Rolling Stone, but then again, that doesn't really mean anything.
Then '97 came along.
Dylan emerged from the studio under the co-production of Daniel Lanois, who had produced Oh Mercy back in the late 80′s. The album was Time Out of Mind and it was Dylan's first album of original material since the critically and commercially-panned Under the Red Sky in 1990. It captured Dylan's new 'vibe' and was the start of his big comeback. It was then that everyone caught up to me…people my age and people younger than me finally 'got' Dylan…and his voice.
I'm all the more happy to know that I was on the journey before it was a tourist attraction, ya know? Yes, I'm being douchey and taking credit for liking Dylan before it was cool. And though there are hardly any more record shops, people seem to understand now that Bob Dylan doesn't belong in the 'folk' section.
Happy 70th, Bob!
Hey dudes,
Tune in to Beyond Beyond is Beyond on Thursday, two days before what would have been John Lennon's 70th birthday, and find out how to enter to win the new Gimme Some Truth 4-CD box set! I have one box to giveaway to one lucky listener.
Happy Birthday and Rest In Peace, John!