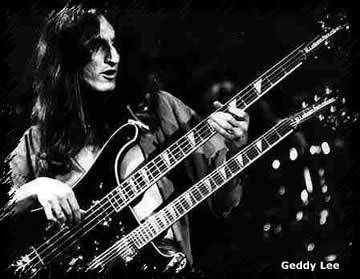 Way back in 1968,  a young Gary Lee Weinrib was asked to join fledgling Canadian band Rush. To the rest of humankind, this son of Jewish/Polish refugees is known as Geddy Lee, and he can spank a plank and holler with the best of them. Known for his distinctive vocal style and percussive basslines, Lee propelled the role of bassist/singer to a new level. My personal equipment configuration for him would be the Rickenbacker 4001 bass with Ampeg amplification, it really defined his signature sound, though he's alternated his gear frequently throughout Rush's 18 album career. The bulk of his music is heard with the Canadian Trio, but he's also taken a number of production jobs, and released a notable solo album, My Favourite Headache during drummer Neil Peart's hiatus due to personal tragedy.
Always searching to expand the possibilities of a three-piece, Lee wasn't content to just play bass and sing, and he pioneered the use of Taurus bass pedals, freeing him up to play the keyboard lines that began to creep into Rush's studio works.
His influence on the next generation of musicians is vast, from Metallica's Cliff Burton, to Maiden's Steve Harris.  He currently plays the Geddy Lee Signature Jazz bass, a replica of his favourite bass that he bought in a pawn shop. His strident vocals and metallic bass are instantly recognisable, and timeless, which perhaps explains his band's longevity. Currently touring Snakes and Arrows, they show no sign of slowing down.
On a less musical note, he's also known for a quirky sense of humour, which leads him to replace conventional backline with domestic tumble driers, or, more recently, multiple chicken rotiserries….his only explanation being that the band have to eat and do laundry.
Recommended: By-Tor and the Snow Dog; Closer to the Heart; Permanent Waves; Moving Pictures
A true superstar, who really lived the rock'n'roll lifestyle and paid for it with his life, Phil Lynott embodies the ethos of the bassist/singer. inspired by Hendrix's example, he proved a black man could rock, and the massive cultural hurdle (in those days) of being Irish and Black fed his music and lyrics, embodying them with a wild romanticism and a "me an the boys" gang mentality, reminsicent of Bernsteins West Side Story.
His mother, Philomena, figured large in his life, and he wrote a song for her. It's said that his last words to her were "oh ma, what have I done to ya?" – and it's quite clear that there were two Philip Lynotts – the caring father and son, and the wild man, the romeo, forever ligging at someone's party, glass in hand.
Bon Jovi are vocal in their appreciation, saying Phil and Lizzy were a massive influence on them. Songs about Cowboys from the Irish – Inspiring the Americans to do the same – it's like selling sand to the arabs!! No mean feat. John Norum and Swedish band Europe were also massive lizzyphiles – Norum covering "Opium trail" on one of his solo outings. Huey Lewis also cut his teeth playing blues harp with them.
He led Thin Lizzy to produce some of the finest rock in the last forty years, employing a succession of guitarists that reads like a who's who – Eric Bell, Gary Moore, Brian Robertson, Scott Gorham, Snowy White and John Sykes. He even employed Ultravox's Midge Ure at one point!
But it was his driving bass, his power stance and delivery, and his completely unique voice, that really sold Lizzy. listen to the bass line on "the boys are back in town", or the earlier "I'm a gonna creep up on ya". He WAS rock bass, straight-ahead, no-nonsense. There are so many great Lizzy bass lines, delivered on the now iconic black Fender precision with the mirrored scratchplate – an idea he nicked from Slade's Noddy holder when he saw how the spotlights reflected off the mirrors on Noddy's trademark top hat!
I had the pleasure and privilege to briefly meet him in Derby, when he'd taken the new-look twin-guitar lizzy out on the road to promote "Nightlife". he was quite, unassuming, a gentleman. But onstage, the consummate rocker. Recently, that very show I attended at Derby college has been released on CD, where they previewed the as yet untitled Cowboy Song, calling it "Derby Blues!".
I've always felt a connection with Phil. He's one of my strongest and earliest influences, and I had the good fortune to portray him on the UK TV Show "Stars in their Eyes".
I met Eric Bell some time afterwards, and he told me he'd enjoyed it alot, and Phil would be looking down saying, in his inimitable Irish accent "jaysus, I tort oi was dead!" it was one of the proudest moments of my life.
Happy Birthday Phil.
Recommended listening…"I'm gonna creep up on ya" "The Hero and the Madman" "The boys are back in town" "Don't believe a word" "The Rocker"…..the list goes on!
[youtube=http://www.youtube.com/watch?v=umdj-GG0y6g&hl=en&fs=1]
I have an article contained within the pages of a tatty 1970's periodical called Music Week that pigeon-holes a certain female bassist/vocalist as "bubblegum". With the benefit of hindsight, I would postulate that "bubblegum" is not an epithet one would use about the girl in question, Suzi Quatro, and most certainly not one you would use to her face, unless you were looking for a quick nose-job.
Suzi Quatro's assault on the British charts in the early 70′s, leather cat-suited, a tiny thing grasping and spanking a frankly huge-looking Precision is remarkable for a number of reasons. The fact that she refused to adopt the smaller Mustang bass spoke volumes for her desire to be taken seriously in what was then predominantly a male domain.
There was your Sandie Shaws, your Olivia Newton-Johns, all vaseline-lensed and wistful, and then there was Suzi, implausibly inviting you to "Can the Can" and insisting that the 48 Crash was a "silk sash bash" delivered in a tough, caterwauling hell-cat scream that took no prisoners. It was magnificent.
A prodigy of Mickie Most, whose pop touch destroyed Terry Reid, Suzi made it her own with a string of hit singles. Although LA bands such as Fanny and Birtha were making some waves in America, their brand of girly rock never quite made it to UK shores (despite Suzi's sister Patti joining Fanny in its later incarnations).
She clearly paved the way for countless female bands, and guess what? She could play!! This was much in evidence as she took to session work when her career suffered a dip in the mid to late seventies. Giving credence to the saying "a prophet is never recognised in his own town", Quatro never really achieved musical recognition in her native America though her character from Happy Days – Leather Tuscadero, is remembered fondly.
I've had the pleasure of touring with Suzi in the 90′s when I was with Christie – she borrowed my Phil Lynott Precision one time AND we appeared on the same CD once, a German Christmas album!
Her live shows were always gutsy, and when she took her solo on bass, it just screamed "this is what I do, it's not a gimmick". A feisty character, one of the guys backstage, she is now married to our old German promoter, Rainer Haas, and continues to tour.
Given the state of play nowadays with simpering pop from the likes of Sugababes and Atomic Kitten, God knows the world needs another Suzi on the scene!
Recommended listening: Can the Can, 48 Crash, Devilgate Drive,Take me in your Arms (Suzi's Doobies cover, from O, Suzi Q)
Keep following the series folks – A few off-the-wall choices coming up!