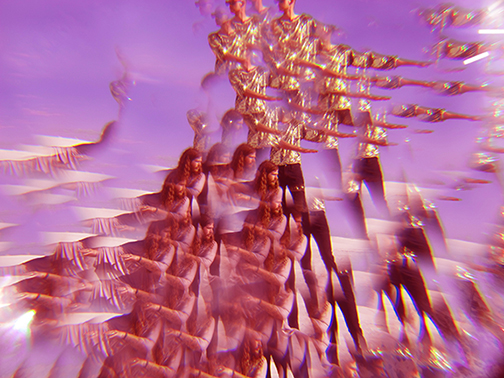 PRESS RELEASE:
JJUUJJUU lines up tour supporting FRST
Shows include Austin Psych Fest, Moon Block Party, Desert Daze
Band unveils trippy "Ancient's Future" video

"Hooked on a feeling and stuck in a beat, "G 4 A G" burns slow and steady with a bit of a freak-power edge that spells mild darkness with drop-out, play-through, basement rumblings."
–
IMPOSE
 "Comprised of 2 members, Andrew Clinco of Incan Abraham and Phil Pirrone, founder of Moon Block Party, the spacey vibrations JJUUJJUU have put down include stunning layers of processed guitars, celestial pulses and massive beats from Andrew Clinco…their musical vision and penchant for touching the farthest reaches of space make them a compelling act to watch grow." — Kim's Video and Music
JJUUJJUU is an astral union, an arcane ritual, and above all, a conversation. Harnessing an unspoken energy, the pairing (Andrew Clinco of Incan Abraham + Phil Pirrone, founder of Moon Block Party) have exponentially blossomed from a sonic experiment to a forceful, telepathic dialogue of distinct-but-aligned vibrations.
The duo is embarking on a tour in support of FRST, out now on Beyond Beyond is Beyond Records. Catch JJUUJJU on the dates below, including performances at Desert Daze, Austin Psych Fest and Psych De Mayo.
TOUR DATES
4/20 – Moon Block Party's Desert Daze @ Sunset Ranch Oasis – Mecca, CA (w/ Tinariwen, Warpaint + more)
4/22 – District Tavern – Tucson, AZ *
4/23 – Lowbrow Palace – El Paso, TX *
4/24 – The Korova – San Antonio, TX *
4/27 – Austin Psych Fest (River Stage) – Austin, TX (w/ Deerhunter, Black Mountain, Boris, + more)
4/30 – Rhythm Room – Phoenix, AZ (w/ Blackfeet Braves, Of the Painted Choir, Dead Canyon)
5/01 – The Void – San Diego, CA (w/ Blackfeet Braves, Wild Wild Wets, Barbarian)
5/05 – Psych De Mayo – Santa Ana, CA (w/ Holy Wave, Orange Revival, Vinyl Williams + more)
* w/ Cosmonauts, Blackfeet Braves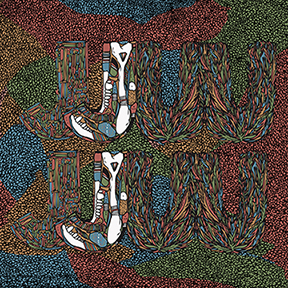 JJUUJJUU - FRST
Label: Beyond Beyond is Beyond
Format: White Vinyl LP, Digital
ORDER
1. Ancient's Future
2. A Forming
3. G 4 A G (mp3)
For more information, visit:
Facebook
Beyond Beyond is Beyond
<<< Happy New Year! Wishing You the Absolute Best for 2013…and Beyond >>>
On this first day of the New Year, we invite you to kick off your year on the right note…with the new BBiB Records 2013 Subscription Service!
Become a member of this true 'record club' and get every BBiB Records release delivered to your door…plus special bonus booty!
Here's the deal. There will be at least 5 new releases in 2013, all of which you're gonna flip for. And of course all of which will be released on glorious vinyl. You're gonna want these beauties brought straight to your doorstep. Trust us.
Here's what's a-coming:
Kiki Pau's Pines (one of the most beautiful albums ever)
Quilt and MMOSS split 10″ – one brand new tune from each band plus some collabo-jamming! (pre-order coming in a few days)
LA Kraut-jammers JJUUJJUU's debut EP (pre-order in a few days)
a new Velcro Lewis Group LP (woo-hoo!)
…and a mystery LP from a mystical band of nomadic, sun-worshipping Swedes
Here is what you can count on for a mere $75:
5 BBiB Records-curated brand-new vinyl releases (no shipping fees!)
At least 3 bonus items (could include bonus tracks/demos, vinyl tote bags, t-shirts, mixed tapes, stickers, a baby's arm holding an apple, artists' underpants, etc.)
Our undying gratitude and respect for your musical taste
The joy and convenience of having the best music on the planet (and beyond) delivered to your doorstep!
And if you subscribe in the month of Jamuary, you will get a handmade, one-of-a-kind custom mixtape made personally for you by BBiB's own Marc Norman! (Digital mixtape for non-US addresses and by request).
So subscribe below and come with us on our epic musical journey.
*And if you already have ordered Kiki Pau's Pines but you still want to subscribe, then just tell us in a note in Paypal when you're checking out and we will replace the Kiki Pau vinyl with Prince Rupert's Drops' Run Slow. If you already have the PRD album and you've also pre-ordered the Kiki Pau album, then you're the best and we'll replace it with the first release of 2014 or maybe even a BBiB Records t-shirt. Either way, what we're trying to say is that you won't get any duplicates. And you're sexy.
**AND, huge thanks to everyone who has supported us so far with our inaugural release from Prince Rupert's Drops.
The big-Beat, psychedelic, Southern rock, circus pop band Gringo Star are dropping in on Beyond Beyond is Beyond on East Village Radio Thursday from noon to 2pm EST, to lay down some booty-shakin' garage grooviness for us.
They're rolling though New York before they finish up the tour supporting their great new album Count Yer Lucky Stars, out now on Gigantic Music.
The remaining tour dates:
12/1 – Mercury Lounge – New York, NY (w/ J Roddy Walston & The Business)
12/3 – Cameo Gallery – Brooklyn, NY
12/6 – Will's Pub – Orlando, FL
12/7 – Hippodrome – Cocoa, FL
12/8 – Jack Rabbits – Jacksonville, FL
12/10 – Sarasota Lanes (Cosmic Groove Festival) – Sarasota, FL
So tune in to EVR.com on Thursday, noon to 2pm EST, to hear them rip it up live in the studio!
The prog-rock giants, Gentle Giant, just remastered and re-released their 3rd and 4th albums, Three Friends and Octopus, both originally released in 1972…a fine fine year! I'll have Gentle Giant frontman, Derek Shulman, on Beyond Beyond is Beyond on East Village Radio on Thursday to talk about those amazing albums and spin selections from them. Join us from noon to 2pm on Thursday and get your afternoon prog on!
Director and Editor, Chris Piazza and his killer vid team at Panopticon 360 came out to this year's BBiB Summer Jam on the Hudson and shot some amazing 360 footage of Endless Boogie. The result of which lies before you. And be sure to crank it up!
Panopticon360 is a visually groundbreaking new live music webseries, featuring 10 of New York's most innovative bands playing live sets that were filmed with 360 degree, panoramic video cameras. Follow them at Facebook.com/Panopticonnyc or Twitter (@panopticonnyc) for the full Season 1 line-up, artist additions, behind the scenes photos, and more information.
I'm not gonna make any jokes about them pulling you over or tell you that their music makes you feel like eating donuts and wielding power. But I will say that Brooklyn's Ex Cops make a music that is infectious, the kind that grabs you more and more after every listen. Which actually seems like more of a rarity these days. So head over here and get a taste of their sound, then tune in Thursday and hear them live on Beyond Beyond is Beyond on East Village Radio, noon to 2pm.
Thanks to the good folks at MIG Music and Freeman Promotions, BBiB has a couple copies to giveaway of Epitaph's amazing 1974 classic, Outside the Law, remastered with plenty of extra live and bonus jams! Holy Kraut Boogie!
Enter to win a copy:
…by Tweeting this post
…by posting this on Facebook
…or by commenting below
Contest will end July 23, 2011. U.S. entries only please. Can't ship outta the States!
Cheers and Good Luck!