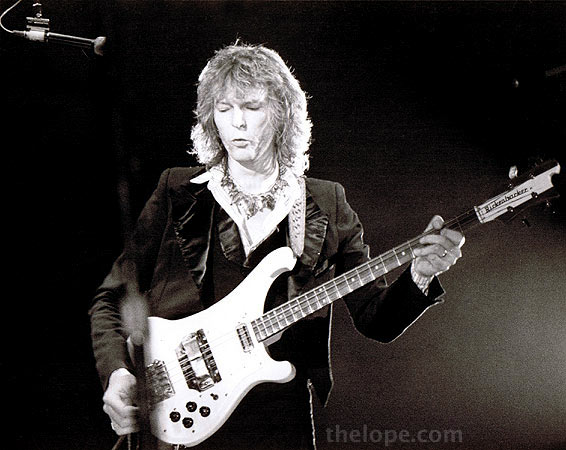 As seminal progressive rock band Yes gets ready to head out on the North American road for a tour that will last exactly one month, we get the chance to talk to Yes bassist, Chris Squire, on Thursday on Beyond Beyond is Beyond.  So tune in to East Village Radio on January 14th at noon and hear me cower before another one of my idols.  Okay not really, but yeah, kinda.
Stuff I wanna talk to him about: current lineup, studio plans, Jon Anderson, Fish Out of Water, XYZ project with Jimmy Page in the early-80s, Benoit David, Oliver Wakeman and what modern music Chris listens to.  So let's see if I have time, or just the memory, to ask him about all these things.
YES FEBRUARY CONCERT DATES
February 2            Poughkeepsie, New York,           Civic Center
February 4            Concord, New Hampshire          Capitol Center for the Arts
February 5            Jim Thorpe, Pennsylvania                   Penn's Peak
February 6            Washington, DC                        Warner Theater
February 9            Boston, MA                               House of Blues
February 10           Montclair, NJ                            Wellmont Theater
February 12           Atlantic City, NJ                       Tropicana Casino
February 13-14      New York, NY                            Town Hall
February 17           Cleveland, OH                           House of Blues
February 18-19      Chicago, IL                               House of Blues
February 20           Detroit, MI                                Motor City Casino
February 23           Dallas, TX                                House of Blues
February 24           Houston, TX                              House of Blues
February 25           New Orleans, LA                       House of Blues
February 27           Orlando, FL                              Sea World Orlando
February 28           Boca Raton, FL                         Sunset Cove Amphitheatre
UPDATE : Dig the archive of this show.
So what's been going on? Round 8 of RT is really draggin' on, innit? I've been turned on to another great band, the Streetwalkers, which features a couple 'chaps' from the band Family, who actually I'll be exposing to the Nights With Alice Cooper radio audience in the next few weeks. Some other cool shit I've heard lately…speaking of street walkers (zing!), Amy Winehouse doing Toots and the Maytals' 'Monkey Man' (magnificent!), and Cat Power covering Dylan's 'I Believe in You' is hot!
Let's see…I think I have some other shit to show you. Here it is…
.
I love the last sentence of this Amazon description of an upcoming (very good and catchy) album, because haven't I been saying this for a while now?:
Product Description
This NY four-piece draw on their diverse backgrounds and interests, experimenting with African guitar music, the Western classical canon, hazy memories of Cape Cod summers, winters in upper Manhattan, and reggaeton. "Equal parts shruggy New York indie strumming and groovy Afro-pop, Vampire Weekend's organ-and-drum runs highlight narratives about relationships, punctuation, and sometimes both" – Spin. Named "Hot New Kids" in Rolling Stone's "Hot" issue. Vinyl contains MP3 coupon.
You absolutely MUST see this video of Tom Cruise talking about Scientology over at the Star-Room!
Did you miss Jimmy Page's Birthday?
Grab this rare Earth & Fire album (notice: no Wind) over at Chris Goes Rock.
Let NGOoTB turn you on to the amazing music of Henry Kaiser.
Check out new NYC local band Hospitality.   They play Piano's on Saturday 1/19 at 8:30 and Frances' Paul Hogan at 9:30.
What do you think of these Best Bands You've Never Heard In Your Life?
Fight the Good Fight, ya'll…for Triumph has just reunited! Not sure how excited I am, if at all. It'd be funny if they hit Bonnaroo though!
And how do you all like the new NewmRadio look?
.
That's right! It was just announced last night that Jimmy Page has fractured a finger and Led Zeppelin must postpone their long-awaited reunion for another 3-4 weeks. That must suck for people who already bought their flights and made hotel reservations. Oh well…we're still jealous! There has been more and more rumor chatter that this reunion will turn into a full-blown tour though.
This Rolling Stone picture is pretty hilarious (Page is looking good though otherwise)…
Rolling Stone also presents us with the Illustrated Guide to Indie Rock.
The Whites Think Too Much: Modern Indie Rock has been having to defend itself against some scrutiny lately, warranted or unwarranted, and of course Indie Rock has to fight back in the most intelligent and rational way (yawn). And Will Butler of Arcade Fire over-intellectualizes his band's percentage of blackness. Indie Rock has always seem to just assume its own self-importance, and these days as it becomes a more popular form, due in part to dorky white bloggers in Brooklyn, like myself, it's going to find itself naturally under more criticism. What I'm trying to say here is…could Indie Rockers please earn my respect and simply say "FUCK OFF!" when someone criticizes the music that they make? Your hearts look better INSIDE your sleeves (and tucked behind your protective rib cages).
Anyone got the new Leopard OS yet? Looks tasty.
Who knows Neil Young's Time Fades Away live album? I have the record but I just found online that it has yet to be re-released on CD. The speculation is that Neil was going through rough times then, especially with the death of good friend and Crazy Horsian, Danny Whitten, and therefore would rather bury the album. That said, this is one of THE best live albums I've heard…and RockRula has the mp3s for you ripped from the vinyl. So go get 'em!
Cool new Comfy in Nautica video from Panda Bear.
The new Case for Collins examines the possibly under-appreciated Bob Weir.
A Halloween audio treat from me, Alice, and Frank.
What else is up in the world of music? Tell me one thing…or else, EELS!