*killer poster by Curtis Godino
Hey dudes, our superpals at Dog Gone Blog are hosting these two fucking amazing new Chilean psych bands, Follakzoid and the Holydrug Couple, at Mercury Lounge tomorrow night (Thursday, 3/21)…and gave us a pair of tickets to give to you!
All you have to do is Tweet this post and tag @BBiB and @DogGoneBlog to be entered to win the tickets. A winner will be chosen from Tweets before noon on Thursday, 3/21. Sound good?
San Francisco Bay Area-based power quintet Howlin Rain's come howlin' back with their third album, The Russian Wilds. Having been formed by bandleader-singer-guitarist Ethan Miller in 2004, as a melodic offshoot of blazing new-psych innovators Comets On Fire, Howlin Rain soon caught the attention of uber-producer Rick Rubin, who signed them to his American Recordings label and involved himself deeply in their subsequent musical evolution thereafter.
"There was a point when we were really trying to blend Jimi Hendrix's Electric Ladyland, Steely Dan's Gaucho and Bruce Springsteen's Darkness On The Edge of Town," says Ethan Miller. "I love the Boss' singing, where he's just blowing out his voice even when it's just a pop ballad moment. And we were inspired by some of the grooves and close mic stuff on Gaucho, and by how Electric Ladyland runs the gamut from super long jams to blues numbers to drifting psychedelic pieces. There's a sense of audacity to these records – a band chasing down strong, invisible connections – and there's moments like that on our record. We didn't always do the smartest or safest things [laughs]."
I've heard The Russian Wilds, and the album is incredible. If any of the above makes any sense to you, then you'll want to pick up this record when it drops on Valentine's Day. Check out "Phantom In the Valley" to get a first taste…
In the meantime, you can enter to win two tickets to see Howlin Rain on Tuesday at Mercury Lounge! The fucking fantastic D. Charles Speer & the Helix open the show. Just comment below with your favorite classic rock record. Or simply by Tweeting this post (tag it with @BBiB). Cool? Well, get to it then! Winner will be notified by Monday morning.
I'm happy to be welcoming my pal, Todd Bogin (above right) and his excellent folk-rock outfit, Whale Belly to Beyond Beyond is Beyond on Thursday. As a live band, these guys are full of untamed roller coaster ride-like energy.
After bringing us that energy live on air at noon (EST) on Thursday, they'll bring it to their sold out show that night at Mercury Lounge. But no worries, they'll play the Merc again on Saturday at 7:00 pm.
If you're in the New York tri-state area this Friday (November 21st), then you MUST go to the Mercury Lounge to see our good friends, Frances, play their energetic, super-tight live show for their debut full-length album release party.  The album is called All The While and it is absolutely brilliant, full of catchy hooks, amazing harmonies, and melt-in-your-mouth melodies.  If you can't be at the show on Friday, you can get yourself a copy of the album from Amazon for under $10 or you can get the digital download at Amie Street for just half of $10!  Dig the cover/flyer for the show…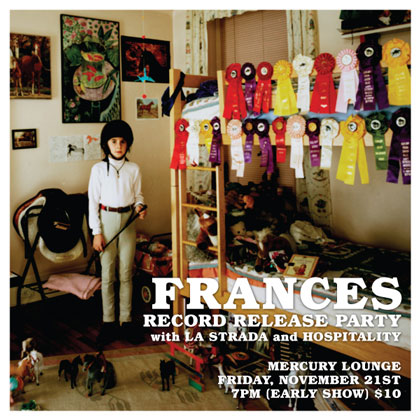 So, hopefully I'll see you at the show, but if not, make sure to catch this band on the rise in the near future.  They'll probably play in your town in 2009!
The after-party is at Stanton Public.
Listen to songs at the Frances website.
Download the song "All The While" for free at RCRD LBL.
Cheers!