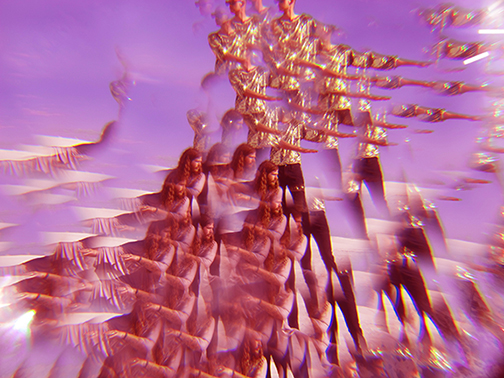 PRESS RELEASE:
JJUUJJUU lines up tour supporting FRST
Shows include Austin Psych Fest, Moon Block Party, Desert Daze
Band unveils trippy "Ancient's Future" video

"Hooked on a feeling and stuck in a beat, "G 4 A G" burns slow and steady with a bit of a freak-power edge that spells mild darkness with drop-out, play-through, basement rumblings."
–
IMPOSE
 "Comprised of 2 members, Andrew Clinco of Incan Abraham and Phil Pirrone, founder of Moon Block Party, the spacey vibrations JJUUJJUU have put down include stunning layers of processed guitars, celestial pulses and massive beats from Andrew Clinco…their musical vision and penchant for touching the farthest reaches of space make them a compelling act to watch grow." — Kim's Video and Music
JJUUJJUU is an astral union, an arcane ritual, and above all, a conversation. Harnessing an unspoken energy, the pairing (Andrew Clinco of Incan Abraham + Phil Pirrone, founder of Moon Block Party) have exponentially blossomed from a sonic experiment to a forceful, telepathic dialogue of distinct-but-aligned vibrations.
The duo is embarking on a tour in support of FRST, out now on Beyond Beyond is Beyond Records. Catch JJUUJJU on the dates below, including performances at Desert Daze, Austin Psych Fest and Psych De Mayo.
TOUR DATES
4/20 – Moon Block Party's Desert Daze @ Sunset Ranch Oasis – Mecca, CA (w/ Tinariwen, Warpaint + more)
4/22 – District Tavern – Tucson, AZ *
4/23 – Lowbrow Palace – El Paso, TX *
4/24 – The Korova – San Antonio, TX *
4/27 – Austin Psych Fest (River Stage) – Austin, TX (w/ Deerhunter, Black Mountain, Boris, + more)
4/30 – Rhythm Room – Phoenix, AZ (w/ Blackfeet Braves, Of the Painted Choir, Dead Canyon)
5/01 – The Void – San Diego, CA (w/ Blackfeet Braves, Wild Wild Wets, Barbarian)
5/05 – Psych De Mayo – Santa Ana, CA (w/ Holy Wave, Orange Revival, Vinyl Williams + more)
* w/ Cosmonauts, Blackfeet Braves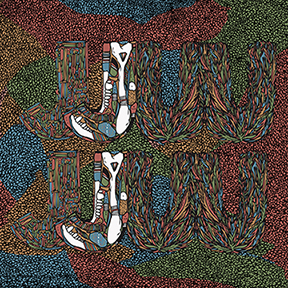 JJUUJJUU - FRST
Label: Beyond Beyond is Beyond
Format: White Vinyl LP, Digital
ORDER
1. Ancient's Future
2. A Forming
3. G 4 A G (mp3)
For more information, visit:
Facebook
Beyond Beyond is Beyond
Behold the mighty Foxygen. These kids rule. The pic above is from when they came and played live on my East Village Radio show in early 2012.
Jagjaguwar signed them up in the meantime and officially issued their amazing self-made LP, Take the Kids Off Broadway, and the world sang their praises in unison!  What we have below is a video for the song, "San Francisco", from Foxygen's new album, We Are The 21st Century Ambassadors of Peace and Magic, out January 22nd on Jag. So let's just stop talking and enjoy this very pleasurable song and video…
I love MMOSS. And I love their new Only Children album. Put it on my Best of 2012 list. Check out this great new vid for "Hands." And keep on the lookout for the upcoming MMOSS/Quilt split 10″ on BBiB Records in March!
*above pic courtesy of Revolt of the Apes
I do believe you've heard you some Tame Impala before as these dudes are getting huge. But it's for good reason, for once! A little justice for great music. Take a look & listen to their trippy new one for "Feels Like We Only Go Backwards" (from the new Lonerism album)…
Tame Impala plays Webster Hall Saturday night with the aptly titled Swedish band, The Amazing. If you can score a ticket, it is not to be missed! Happy to say I'll be there.
The mighty Eternal Tapestry have another fantastic album coming out November 13th, care of Thrill Jockey, called A World Out Of Time. I've been listening to it for the past week or so and loving it. It might be my favorite from them yet. Full cosmic Atman!
Take a taste…

And methinks you should pre-order the vinyl now and get a bonus CDr called Prometheus Rising thrown in for good measure!
Some details about the bonus CDr :
"Prometheus Rising is a CD-R that plays like a full album.  Clocking in at 42 minutes, the six tracks span the full extent of Eternal Tapestry's existence.  The disc opens with "The Prowler" – a set standard that the band has been playing live for years, previously unavailable.  Title track "Prometheus Rising" is purposeful and driven as it leads into "Bridge Over an Abyss" – a psychedelic, ominous cosmic chasm of loose, foreboding darkness.  The disc closes with live track "Blots and Blurs," an epic burner of a track, crescendoing over the course of 13 minutes in impressive fashion."
Dig this vid for "Apocalypse Troll" from A World Out Of Time and see if you recognize a riff:
"A World Out of Time, Portland quintet Eternal Tapestry's second full-length of 2012, is a new kind of album for the band. As opposed to previous efforts, which were culled from many hours of recordings, it was recorded as a whole.  The resulting record, while not restricted to the four minute song, has the focus and the flow that only music conceived as a narrative can. Taking inspiration from groups like Faust and Algarnas Tradgard, the album unfolds as a collage, the most salient elements of their sound sewn into a seamless patchwork. In the process, the group has constructed an incredibly dynamic album, juxtaposing expansive improvised sections with their most deliberate material yet."
If you don't have this entrancing album by the mysterious Swedes called GOAT yet, order it now. You will fall in love…
Dig these great new 360-degree panoramic vids of White Hills at Glasslands a few weeks back, done by our good pals at PanopticonNYC!
(embiggen the video for best viewing)
Panopticon360 is an original live music webseries that features bands of wildly diverse musical style performing live sets filmed with 360 degree, panoramic video cameras. Sessions are filmed in recording studios, at live shows, art galleries and other unique spaces. No two episodes look or sound the same.
Panopticon360 has worked with some of the most acclaimed and creative bands in indie-rock, including noise-pop experimentalists Pterodactyl, highly acclaimed metal trio Tombs, psych-metal revivalists La Otracina, and improvisational rock veterans Endless Boogie.
You can see all of the current episodes at the website or on their YouTube Channel. You can also follow them on Facebook and Twitter for all the latest updates and episodes. For more info, inquires and requests, please email them at info@panopticonnyc.com.
The White Hills episode was filmed live at Brooklyn's Glasslands Gallery. White Hills are currently on tour supporting their newest LP, Frying on This Rock, released by Thrill Jockey. 
Read on for the second video…
I fucking love this band, Quilt. I picked their album as one of my faves from 2011. And it's still one of my faves in 2012! If you don't have this album, grab it now over at Mexican Summer. And get a little taste of 'em whilst you're on you're way there by flaring up this new video for "Young Gold." Dig…
In For The Kill Records is proud to announce its first release, a 7" by Brooklyn/NY acid-prog/psych rock trio LA OTRACINA. Having issued almost 20 releases in 8 years, including 3 critically acclaimed albums for the Holy Mountain label, this is their first 7" release!
"Skyblazer" is a trip through sound portals of complex densities; where the speed rush of Motorhead/ZZ Top fueled proto-metal/hard-rock meets the lysergic meltdown space boogie of Hawkwind and the progressive intricacies of King Crimson. This is the New Wave Of Psychedelic Heavy Music, a contemporary vision exploding with classic influences, forging a future of boundless (con)fusions between The Psychedelic Heavy and The Cosmic Weird!
Available on green vinyl in a limited edition of 300 copies. Highly recommended for fans of DANAVA, CIRCLE, WITCH, NAAM, SAVIOURS and EARTHLESS.
Cost Including Shipping By Location:
US $7.00 / Canada/Mexico $8.00 / Europe/Australia/South America $10.00 / Japan/Asia $11.00 /
Send money via PAYPAL directly to "inforthekillrecords AT gmail DOT com".
Watch and listen to the Official Music Video for the LA OTRACINA "Skyblazer" 7" here: http://youtu.be/EDKmxZwaFs4. It was videotaped live at the recording session by the good folks at Panopticon NYC.
In For The Kill Records - http://inforthekillrecords.tumblr.com/
LA OTRACINA - http://laotracina.tumblr.com/
Panopticon360 is a visually groundbreaking new live music webseries, featuring 10 of New York's most innovative bands playing live sets that were filmed with 360 degree, panoramic video cameras. Follow them at Facebook.com/Panopticonnyc or Twitter (@panopticonnyc) for the full Season 1 line-up, artist additions, behind the scenes photos, and more information.