As a big YES fan, I am proud to say that with this new Steve Howe interview, I have now rounded out (not roundabout) interviewing the classic Fragile and Close to the Edge-era lineup. High school Mike Newman would be very proud. He might even freak out!
So tune in to see if much-older Mike Newman freaks out whilst speaking with one of the greatest guitarists ever in rock music. We talked about everything from Yes to Zappa to Asia to Tomorrow. I may have even convinced him that he should put Tomorrow back together!
I'll air my interview with Steve Howe on Thursday, January 26th on Beyond Beyond is Beyond on East Village Radio, from noon to 2pm EST. Come join us.
UPDATE: LISTEN TO THE ARCHIVED INTERVIEW RIGHT HERE!
Nuff said…
*pic by Mike Newman
He'll be on the East Coast from now till the end of May, so check out jonanderson.com for all the tour dates.
Here in NYC, at B.B. King's, on Saturday, April 30th!
Check the interview out on East Village Radio, Thursday noon-2pm (ET)
Thanks to the good folks at Backbeat Books, I have a couple copies of this badass prog-rock illustrated history to giveaway to cats like you!
Here's some words about the book:
From its artful beginnings (Syd Barrett-era Pink Floyd, the Mothers of Invention, and those progressive forebearers, the Sgt. Pepper-era Beatles), through the towering guitar solos, monumental synthesizer banks, and mind-boggling special effects of the Golden Age of Prog (Rush, Pink Floyd, Yes, ELP, Genesis, Jethro Tull, King Crimson, UK), through the radio-friendly "pop era" (Asia, the Phil Collins-led Genesis, and a reformed Yes), and right up to the present state of the art (Marillion, Spock's Beard, and Mars Volta), this is a wickedly incisive tour of rock music at its most spectacular. This is indeed the book prog rock fans have been waiting for, the only one of its kind, as fantastic as the subjects it covers.
My two cents…I love this book and have been reading the shit out of it on the subway the last couple weeks! Lots of great pics and lots of great info on lots of prog greats.
To enter to win Mountains Come Out of the Sky by Will Romano:
Winners will be chosen from folks who Tweet this post or post this contest on Facebook (you can Tweet or FB this post below via 'Share and Enjoy'), emailers (to beyondbeyondisbeyond at gmail dot com), and commenters below.
Contest will end December 17, 2010 and winners will be notified by December 19. U.S. entries only please. Can't ship outta the States!
Hey fellow jamologists,
I've got a helluva show for you on Thursday, featuring Matt Whyte from the super-rockin' Earl Greyhound band.  Their sophomore album, Suspicious Package, which is also a great porn title, will be released on Hawk Race Records next Tuesday, April 13th.  And if you've been listening to my show lately, you already know it totally rocks!
They just finished a short-tour with Coheed and Cambria and now their tour with OK GO starts next week.
…and maybe I'll giveaway a copy too if you listen to Beyond Beyond is Beyond at noon eastern on East Village Radio on Thursday, April 8th, 2010! ; )
.
AND IN OTHER GOOD NEWS… I have a couple pairs of tickets to give away to Jon Anderson's show at B.B. King's in NYC this Sunday!
Email your favorite Jon Anderson lyric to beyondbeyondisbeyond at gmail dot com or Tweet it to @BBiB, for your chance to win.
Good luck, 'cuz as you know, 'God, you know he wears a blue t-shirt too with God inscribed, in heaven, on both sides.'
Tune in to Beyond Beyond is Beyond on East Village Radio at noon eastern on Thursday, April 8th!  We'll rock together.
Legendary progressive rock and jazz drummer, Bill Bruford, has written a brilliant new autobiography, published by the good folks at Jawbone Press, so I lucked out and got this chance to talk to him on Beyond Beyond is Beyond on Thursday!
The book is absolutely brilliant and covers all the eras of Bill's career, from Yes to King Crimson to UK to Gong to Genesis to Bruford to Earthworks, and we'll definitely have lots to talk about on East Village Radio on Thursday at noon eastern, so be sure to tune in!  Plus I'll be giving away a copy of the book to one lucky winner.  Email me your favorite Bruford tune at beyondbeyondisbeyond (at) gmail (dot) com for your chance to win it!
(here's the playlist)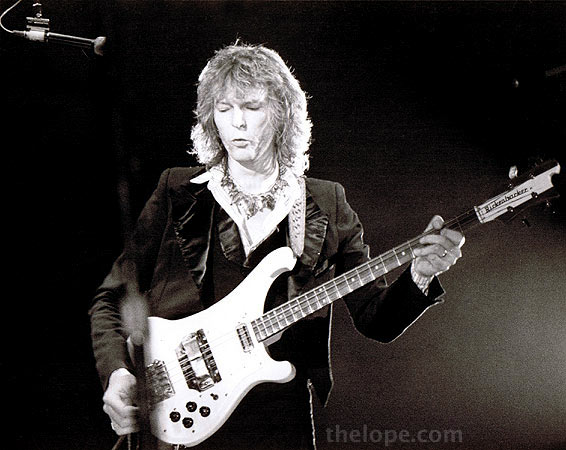 As seminal progressive rock band Yes gets ready to head out on the North American road for a tour that will last exactly one month, we get the chance to talk to Yes bassist, Chris Squire, on Thursday on Beyond Beyond is Beyond.  So tune in to East Village Radio on January 14th at noon and hear me cower before another one of my idols.  Okay not really, but yeah, kinda.
Stuff I wanna talk to him about: current lineup, studio plans, Jon Anderson, Fish Out of Water, XYZ project with Jimmy Page in the early-80s, Benoit David, Oliver Wakeman and what modern music Chris listens to.  So let's see if I have time, or just the memory, to ask him about all these things.
YES FEBRUARY CONCERT DATES
February 2            Poughkeepsie, New York,           Civic Center
February 4            Concord, New Hampshire          Capitol Center for the Arts
February 5            Jim Thorpe, Pennsylvania                   Penn's Peak
February 6            Washington, DC                        Warner Theater
February 9            Boston, MA                               House of Blues
February 10           Montclair, NJ                            Wellmont Theater
February 12           Atlantic City, NJ                       Tropicana Casino
February 13-14      New York, NY                            Town Hall
February 17           Cleveland, OH                           House of Blues
February 18-19      Chicago, IL                               House of Blues
February 20           Detroit, MI                                Motor City Casino
February 23           Dallas, TX                                House of Blues
February 24           Houston, TX                              House of Blues
February 25           New Orleans, LA                       House of Blues
February 27           Orlando, FL                              Sea World Orlando
February 28           Boca Raton, FL                         Sunset Cove Amphitheatre
UPDATE : Dig the archive of this show.
Well my friends, I've been listening to Yes since I was 11 years old and am a total fanboy.  Do I agree with their decision to replace Jon Anderson with Canadian tribute-band bro?  Hell no!  But alas, the Yes machine must roll on, whether or not they run all their decisions by me.  But I digress…
The point I'm trying to make is that this here Yes fanboy will be talking to the most famous Yes keyboardist, Rick Wakeman on Beyond Beyond is Beyond this Thursday! Wowzers…this makes the second Yes member I've had the opportunity to interview!
Rick has always had a successful solo career, and we'll be talking about his latest project The Six Wives of Henry VIII – Live at the Hampton Court Palace, which is an epic staging from earlier this year of his classic 1973 solo album.  He had been petitioning for years to stage the show there at Henry VIII's house and was finally granted the wish.  And Rick is not known to skimp on his projects…the results are absolutely stunning and the sound is fukkin' tremendous!
And thanks to my friends at Eagle Rock Entertainment and Kayos Productions, I will be giving away copies of the DVD and also the CD to lucky emailers (beyondbeyondisbeyond -at- gmail.com) and Tweeters (http://twitter.com/BBiB).  Just be sure to mention your favorite Rick Wakeman joint to be entered!
Oh yeah, and one of the winners will be chosen from the comment section below…
So be sure to tune in to Beyond Beyond is Beyond Thursday at noon eastern on East Village Radio to hear Rick and I shoot the shit and for the usual weekly rock & roll bombast that you're used to!
On the same day that the phrase "Yes We Can" became the United States' official new governing philosophy, the premier progressive rock band of all time, Yes, kicked off their In The Present 40th Anniversary tour…with at least one big but. Due to some respiratory health problems that have plagued long-time Yes singer and spiritual leader, Jon Anderson, the band has replaced him for this tour with Canadian Yes tribute band singer, Benoit David. And the smaller but is that keyboardist, Rick Wakeman, who has always been a little flighty anyway, has been replaced by his son, Oliver. The band is rounded out by Yes mainstays Steve Howe (guitar), Chris Squire (bass) and Alan White (drums). Replacing Anderson has been more than controversial to Yes die-hards (including this writer) and even to Anderson himself, but reports from early In The Present gigs are very positive and Benoit David really does nail Anderson's vocals perfectly (perhaps too perfectly). Even so, many fans still won't be rushing out to buy Yes concert tickets until Anderson is back in the band. And to bide time until that happens, those skeptics can turn to Yes – The New Director's Cut from MVD Visual.
Recorded during Yes' 35th Anniversary tour in 2003, Yes – The New Director's Cut, features two full length concert performances from the classic line-up of Yes (Anderson, Wakeman, Howe, Squire, White) from the N.I.A. Birmingham and Glastonbury Festival. This DVD edition sets out to appease fans who were a little less than pleased with the editing, narration, and interview clips (during songs) of the original tour document, Yesspeak. And it succeeds greatly. There is a great venue vibe contrast from show to show, as the first DVD is indoors and the second is outdoors, at the Glastonbury. And although the set lists are very similar, fans will love the two equally amazing takes of the 15-minute plus masterpiece epic, "Awaken", from 1977's Going For The One album…the highlight for this Yes fan.
Evident from these performances, these guys are some of the best players in the business and are all still on top of their game. It seems like Yes really shines its brightest (and the fans the most satisfied) when playing the deeper cuts like "Don't Kill The Whale", "South Side of the Sky", "To Be Over" and the aforementioned "Awaken". They are most certainly the highlights of Yes – The New Director's Cut. The only times the shows sag a bit are during the Yes super-hits which the band sometimes seem to sleepwalk through. Maybe we'll get to see a 'Yes – Deep Cuts' tour where Yes abandons the usual must-play hits and provides the fans with more of the magical surprise songs when Anderson returns for their 41st year (you reading this, Yes?). But until then, dig into the excellent 4 hours-plus footage of Yes – The New Director's Cut and send out your good vibes to Jon Anderson's health.
Well, I hate to say I told you so, but it looks like my being 'precious' about Yes and not really accepting their new direction to replace Jon Anderson with Yes tribute band singer, Benoit David, is now proven to be the way Jon sees things too.  Just moments ago Jon Anderson posted this blog post to his MySpace friends…
"Not Yes"

September 18, 2008

Disappointed, and very Disrespected

Disappointed that, with the exception of one phone call from Alan, none of the guys have been in touch since my illness, just to find out how I am doing, and how we will foresee the future for YES. And disappointed that they were not willing to wait till 2009 when I'm fully recovered.

And I feel very disrespected, having spent most of this year creating songs and constant ideas for the band, spending time with Roger Dean creating a stage design, also working with VH1 and Sirius and XM Radio to help promote the welfare of YES.

Getting sick was not "on my radar", and I thank my own angel Janeee and my family for helping me through this difficult time, and the many well wishers, friends and fans alike, for understanding that "things happen".

Of course I wish the guys all the best in their 'solo' work, but I just wish this could have been done in a more gentlemanly fashion. After all YES is a precious musical band.

This is not YES on tour…

I send best wishes to one and all,

Jon Anderson
September 2008
So I'm with Jon on this one and I won't be supporting the 'Not Yes' band that will be touring for the actual Yes' 40th Anniversary.  But I will see Jon when he tours solo when he makes his full recovery in 2009.  Sorry Benoit…I hope you have a blast and make some nice ducats, but unfortunately your rise to fame isn't coming up completely roses.
Best wishes, Jon… see you in 2009!